PROJECT MANAGEMENT
DELIVERing EXCELLENCE. "GET WORK DONE."
Our Project Management approach is based on widely published and taught industry best practices.  We enable our clients to execute successful project management projects.
Strong Tower's Project Management Best Practices (STPM®)
Strong Tower's Project Management Best Practices (STPM®) ensures consultants have the tools and training to exceed our client's project delivery needs. We focus on initiating, planning, executing, controlling and closing the work of a team to achieve specific goals and meet specific success criteria. In short, "we get work done".
The STPM approach works within our client's processes, bolstered by access to our best practice methodologies, ultimately resulting in collaborative client success. Our project managers work in senior and middle management, accounting, operational, marketing, IT, procurement and administrative roles.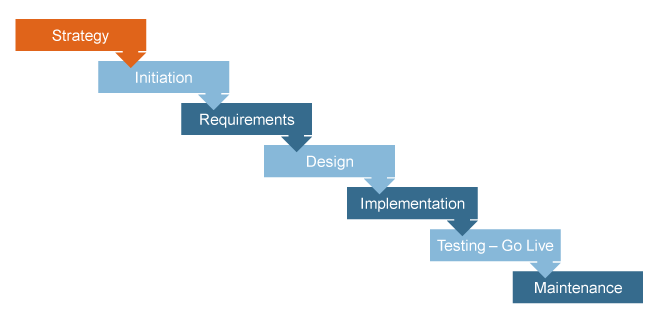 Waterfall
Our waterfall methodology follows a sequential, linear process and is a popular version of the systems development life cycle (SDLC).
The planning is performed using a Gantt chart, that shows the start and end dates for each task in a project. The normal stages include: Strategy, Initiation, Requirements, Design, Implementation, Testing, Go-live and Maintenance.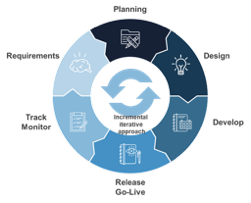 Agile
Our Agile development is based on an incremental, iterative approach. Instead of in-depth planning at the beginning of the project.
Agile methodologies enable changing requirements and welcome constant input with continual improvement built in. The stages include requirements, planning, design, develop, release, track and monitor.
With this approach, change is embraced: With shorter planning cycles, it's easy to accommodate and accept changes at any time during the project. Our faster high-quality deliverables enable our customers to be heard, encouraging team collaboration.

Scrum
Our Scrum is a subset of Agile and a process framework for implementing Agile. Our process is an iterative software development model used to manage complex software and product development.
Iterations, called sprints, lasting two weeks, allow our teams to meet milestones on a regular cadence. The stages include: product backlog, sprint planning, sprint backlog, daily scrum meeting and shippable product pieces.
This provides more transparency and project visibility, increased accountability and makes it easy to accommodate changes and cost savings.
Project Management
BEST PRACTICES

We have a common approach to how we manage all projects — we get the work done.

We execute the global language and tools of program and project management.

We leverage and equip our teams with the Strong Tower STPM ® best practices, quality, managing costs, scope and timelines, while delivering predictable results.
THE STRONG TOWER WAY
Exceeding Expectations
Collaborating with your team to implement best practices for your industry, we then measure and provide a transparent feedback cycle to ensure your programs improve.